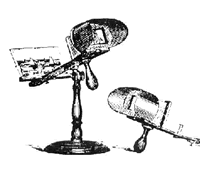 Bill Gamber and Ken Withers. "16th Century Stereo Drawing".
05-Jun-2012
[http://www.bitwise.net/~ken-bill/stereo.htm]
Jim Gasperini. "Flippant Venus Plunge".
Mill Valley. 05-Jun-2012
[http://www.well.com/~jimg/stereo/stereo_plunge.html]
Despite the retina of our eye only receiving 2 dimensional information, the human brain miraculously is capable of transforming the information into 3-D images. It does this using stereopsis and binocular vision. As a result, we are able to perceive depth. Without depth perception, we would be unable to judge distance, height, or depth.
Queen Victoria & The Crystal Palace Start a Stereo Craze
This concept of stereopsis and binocular vision was not left unto itself as the world of photography began to come into its own. Sir Charles Wheatstone patented the first reflecting stereoscope in 1838 used to view stereo drawings. However, within the next decade, the original bulky and complicated devices had become much smaller, simpler to use and were now being touted for use in viewing stereo photographs.
When Queen Victoria and Prince Albert got the opportunity to see 'the new machine' for themselves at the Crystal Palace in 1851, they sparked an excitement that ignited a global enthusiasm. It is estimated that by the mid nineteen-fifties over a million homes owned one.
In fact, the
National Stereoscopic Association (NSA)
, formed in 1974, has more than 3000 members and promotes the study and collecting of stereographs, stereo cameras. It also champions the practice of stereo photography and the use of stereoscopy in the visual arts and technology.
Applying a 21st Century Spin to a 19th Century Concept
As we entered the second decade of the 21st century, fascination with our perception of depth did not wane and has become big business. In 2009,
Avatar
became the first full length feature film to use computer generated 3D graphics to its viewers. Thus far, it has grossed the film makers almost
$2.8 billion
in worldwide sales
.
Now, these same computer graphic enhancement effects are is now trickling down into the hands of the average picture owner. Whether on older paper based photos or ones born digital, photos can now be processed using
open source applications
to reveal what is now being called 'wiggle stereoscopy'. This technology offers a stereo-like effect, although not considered true 3D.
Flickr
has an entire category designated for wiggly stereoscopic photographs and another listing with several thousand contributions under the classification of 3D animated stereo.
More
about wiggle stereoscopy.
Jim Gasperini. "Old Stone Gate".
Garrison, NY. 05-Jun-2012
[http://www.well.com/~jimg/stereo/stereo_gate.html]
| | |
| --- | --- |
| | Organizing and preserving photos is important, and Digital Directions sponsor E-Z Photo Scan can help! Learn more about how photo scanning can help you to keep, protect, share, and connect with your photos. |